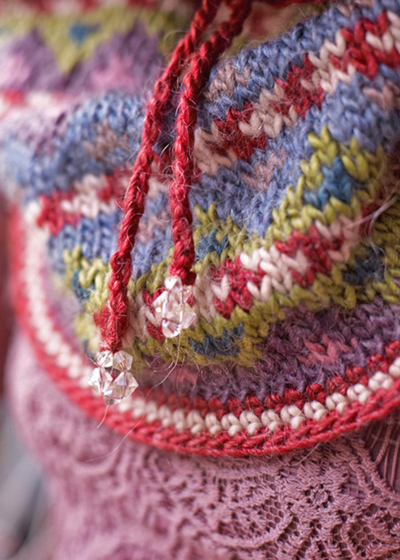 I was lucky to meet Jean Moss on her first Knitting and Gardening tour of Wales and York. It will forever be one of our very favorite trips. We forged a knitting bond on that trip that has lasted over a decade. I'm honored to have her visit our blog today as she tours the cyber world showcasing her latest work Sweet Shawlettes.
Jean, is there a particular image from your recent Morocco trip that inspired a design?
The book was wrapped up just before we left for Knit Morocco, but as I was still in the shawlette swing, I did design a shawlette on the tour. I would have loved to include it in the book, but sadly it was too late. However, subsequently I was asked by Taunton to gift a shawl to the upcoming Prayer Shawl Companion so I found a good home for it there. It's also on Ravelry at http://www.ravelry.com/patterns/library/marrakech-3. Morocco is a designers dream, complete sensory overload everywhere you look, and I love to think my pattern, Marrakech, captured a little piece of its magic.
How does music inspire or inform your work?
We're all huge jigsaws with the multiple parts making up the whole. Every part of my life informs my work, though nothing more so than music. It's played a star role in my life and I can't imagine being without it. When I'm designing I'm constantly listening to Spotify (I think this music sharing app has now been released in the States), the only time I'm not is when the number crunching gets so intense I have to have complete silence to concentrate.
I'm told I'm a synesthete - I see all the letters of the alphabet and also numbers in colour. Apparently this somehow translates into music too. In every book I've done the cooking period is imperative – time to cogitate and develop ideas through displacement activities. During this time, I play guitar more than ever, mostly stuff I'm really familiar with so my head is free to sift through the images that the music conjures up until eventually there's a spark and another design is born.
What's your latest musical discovery or what's on your iPod?
At heart I'm just an old folkie, brought up on a diet of Woody Guthrie, Bob Dylan, Joni Mitchell, James Taylor and Carol King et al. I've always loved the old bluesmen and the like of Reverend Gary Davis, Leadbelly and Mississippi John Hurt are a constant inspiration. Years ago I used to perform more, in an acoustic duo playing original and traditional British folk music . Whilst doing the rounds of the folk clubs I heard many of the bands I still enjoy like Pentangle or Fairport Convention as well as the late greats John Martyn and Bert Jansch. I love going to live gigs and recent faves have been Show of Hands – Steve Knightley, Phil Beer & Miranda Sykes – multi-instrumentallists par excellence and great songwriters playing phenomenal English music. From your side of the pond I've been listening to Dana & Susan Robinson – two guitar-playing, banjo-frailing, fiddle sawing and harmony-singing interpreters of America's musical heritage, hailing from Asheville Carolina. Also for the feel good singalong factor I never tire of the Dixie Chicks – I can often be found belting out one of their songs with them while cooking Sunday lunch!

What's cooking??
I don't suppose you mean that literally, although I'm a big food fan, both cooking and eating! So… in the pot there's the usual selection of veggie food, but one of my Xmas gifts was the wonderful cookbook For the Love of Food by Denis Cotter, who is the owner and chef at the celebrated Café Parasdiso in Cork, Ireland. I love the ethos of the book - simple food shared with love – this can be applied to food, knitting, music or in fact, most things in life. I'm dying for a quiet moment when I can try out some of his heavenly recipes.
On the knit scene, this year we have two upcoming knitters' tours – Lakes & York in May and Knit Ireland in September. We put a lot of work into making sure everything goes like clockwork, so we'll be frantically dotting the i's and crossing the t's over the next couple of months. Knit Ireland is full, but there are still a few places on Lakes & York so if you or any of your readers fancy eleven days of total knit immersion with kindred spirits, get in touch or visit the website for a taster. Knitwise I always have an eye to the future with a couple of projects on the go. I'm in negotiation with Taunton for a new book. Can't say a whole lot about it other than it's developing one aspect of Sweet Shawlettes and applying it to other small projects. I'm also on the lookout for other musicians to form a band playing, amongst other things, textile-related music.
And now, the moment you've all been waiting for -- the contest!
a Rafflecopter giveaway