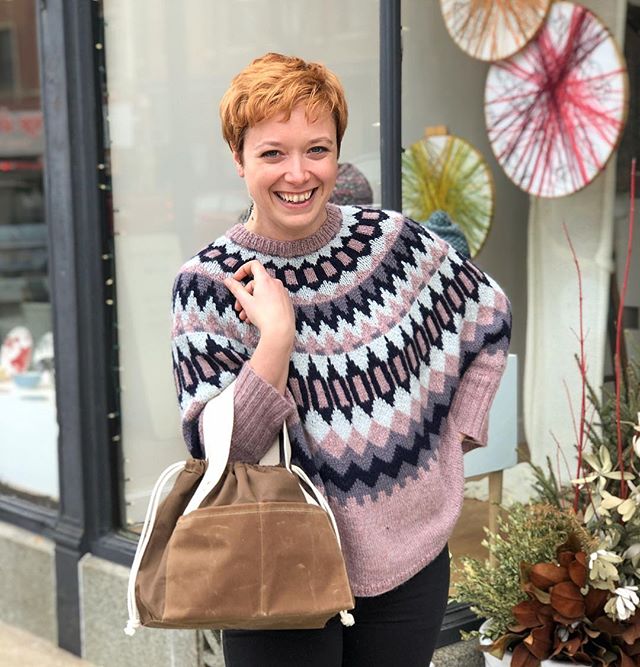 I promised you a picture of Abby's #swoncho but it's a 2fer because we got the new @fringesupplyco #fringetownbag in this gorgeous tan color! •••••••• Abby knit her Swoncho in @junipermoonfarm Herriot - beautifully soft baby alpaca. Swooning over her colors! #stillwinterinchicago #knitasweater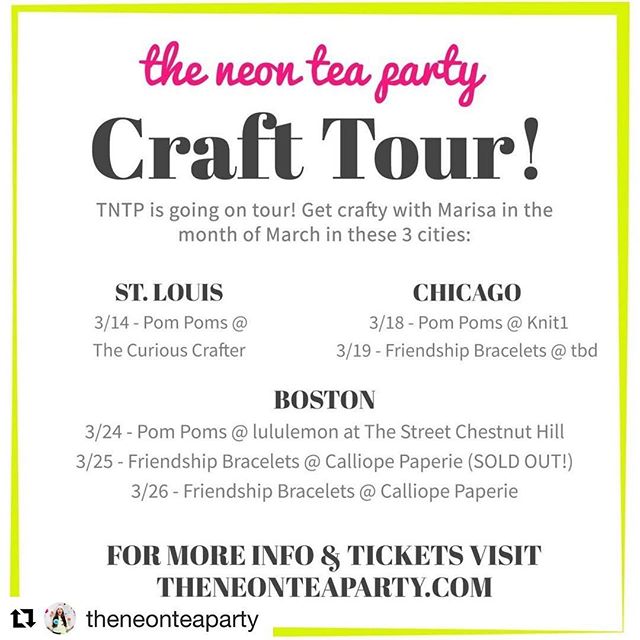 ・・・ Sharing our official TNTP Craft Tour schedule!!! ✈️ ST. LOUIS > CHICAGO > BOSTON here we come!!!! We're hoping to add a Friendship Bracelet Workshop to our Chicago visit, so stay tuned for info on that. Meanwhile, tickets to all our other workshops are LIVE! Link in bio > Click "TNTP Workshops" for more info + tickets! #tntptour⁣ ⁣⠀⁣ ST. LOUIS ⁣⠀⁣ 3/14 - Pom Poms @thecuriouscrafter⁣stl ⁣ CHICAGO ⁣⠀⁣ 3/18 - Pom Poms @knit1chgo ⁣⠀⁣ ⁣3/19 - Friendship Bracelets @ tbd!⁣ ⁣you can sign up through our website at www.knit1chgo.com BOSTON⁣⠀⁣ 3/24 - Pom Poms at lululemon @shopthestreet Chestnut Hill⁣⠀⁣ 3/25 - Friendship Bracelets @calliopepaperie ⁣(SOLD OUT!)⁣⠀⁣ 3/26 - Friendship Bracelets @calliopepaperie⁣⠀ ⠀⁣ .⠀⁣ .⠀⁣ .⠀⁣ .⠀⁣ .⠀⁣ #ABMlifeiscolorful#psimadethis #dscolor #crafttherainbow#creativityfound #abmcrafty #dslooking #dstexture#myunicornlife #candyminimal#huntgramcolor #livecolorfully #studiodiymoreismore#bandofun #thatsdarling #creativehappylife #igers #ABMlifeisbeautiful #ABMhappylife #flashesofdelight#alwayschasingmagic #capturingingcolor #colorcolourlover #theneonteaparty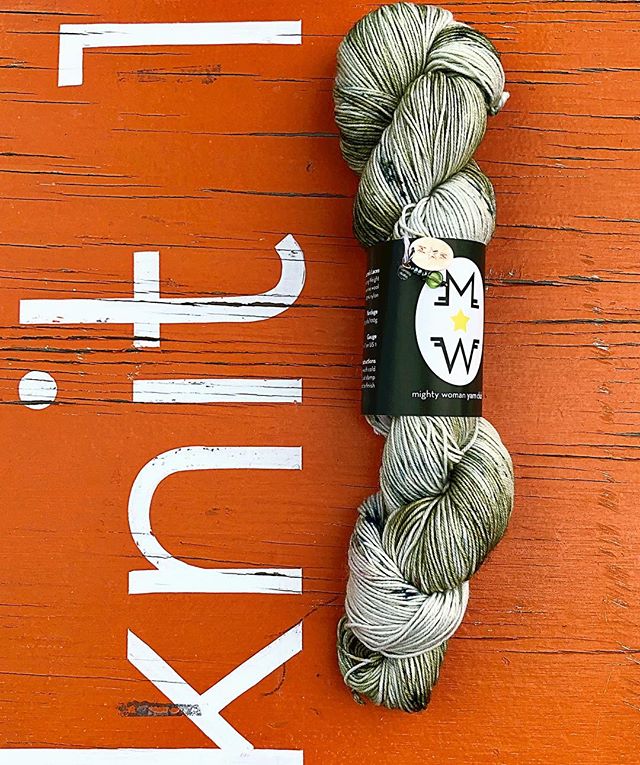 Our Mighty Woman Yarn Club skeins are in the store and ready to be picked up. Our Mighty Woman is the great Barbara Jordan. She inspired this color with her strength and courage. She's perhaps best known for her eloquent opening statement at the House Judiciary Committee hearings during the impeachment process against Richard Nixon. ••••• If you'd like to join the Mighty Woman Yarn Club see link in bio. #mightywoman @lornaslaces #inspiringwomen #womeninspiringwomen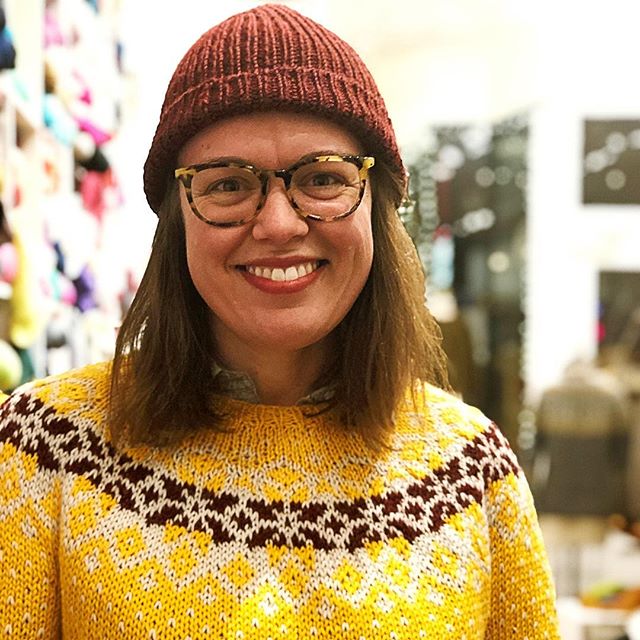 A banner KAL night! @ohdoogs finished her #morainesweater! Could it and she be more beautiful? 💛 I think not.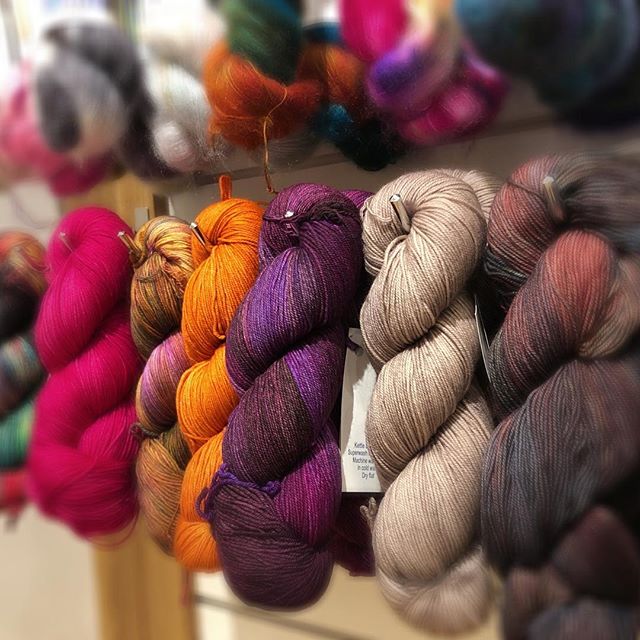 We got 7 boxes today! We still haven't put it on the shelves, but would you look at this @malabrigoyarn Sock! It's exactly what we need in this gloomy, rainy, sleety season. I'll post some pics of the contents of other boxes just as soon as we unpack them. 😫💪 #knitsomecolor #sockyarn #knit1 #knitchicago #chicagoknitting #sockknittersofig
I'm almost finished with my #rugsweater This just may be my favorite knit of the last few years. Hits it all. Memories of my trip to Japan, wonderful yarn - Brooklyn Tweed Quarry, and these classic colors. This is a really well written and easy to follow pattern and I just love the way it fits. And, it matches my decor😉 #knit1yoke #knit1 #yokesweater #btinthewild #brooklyntweed #brooklyntweedquarry #junkookamoto #junkookamotodesign #chicagobungalow #knitwithwool @junkookamoto212
Fresh shipment of #spincycleyarns just landed! We've got #dreamstate and #dyedinthewool in SO many colors! 🌈 #shiftysweater #nightshiftcowl #theshiftcowl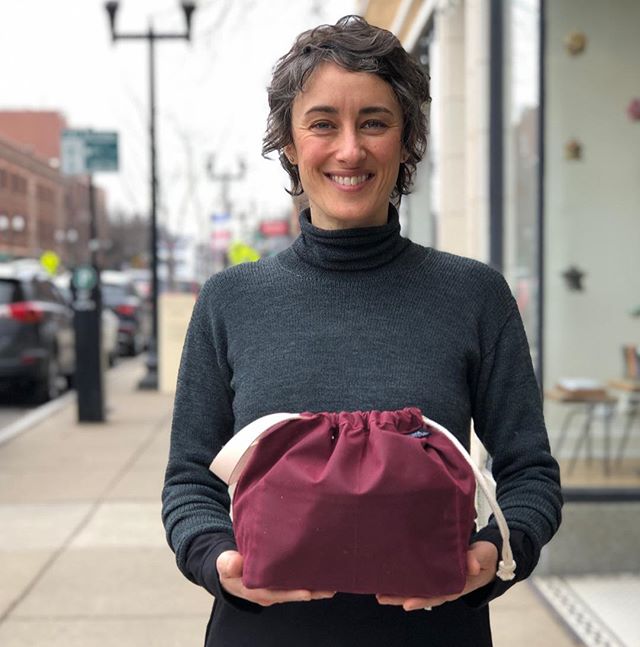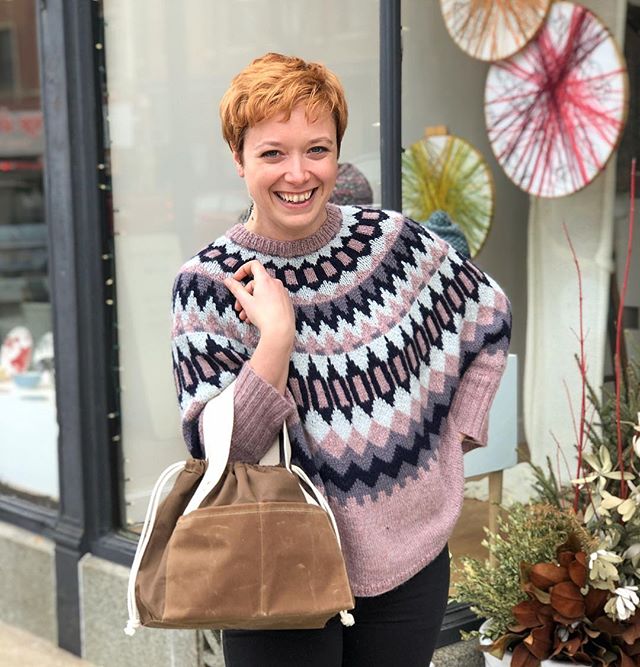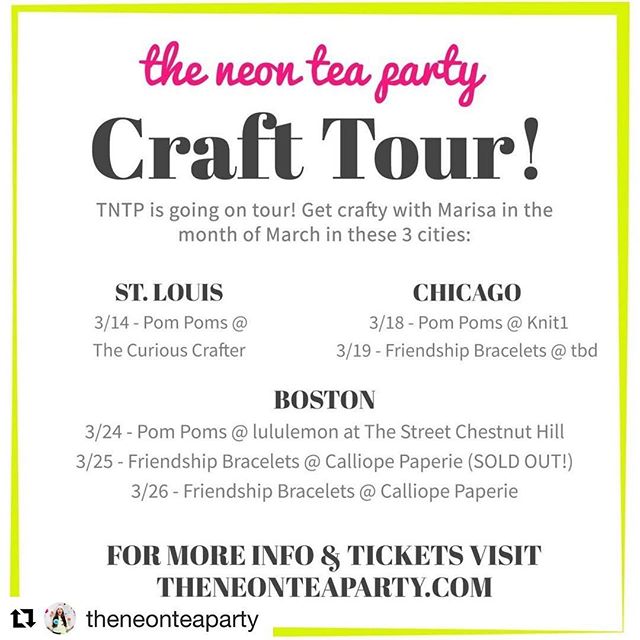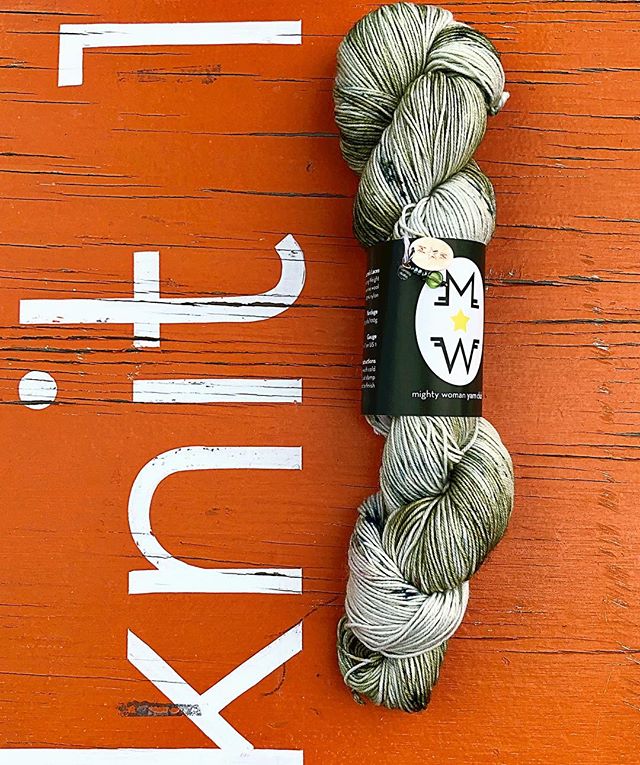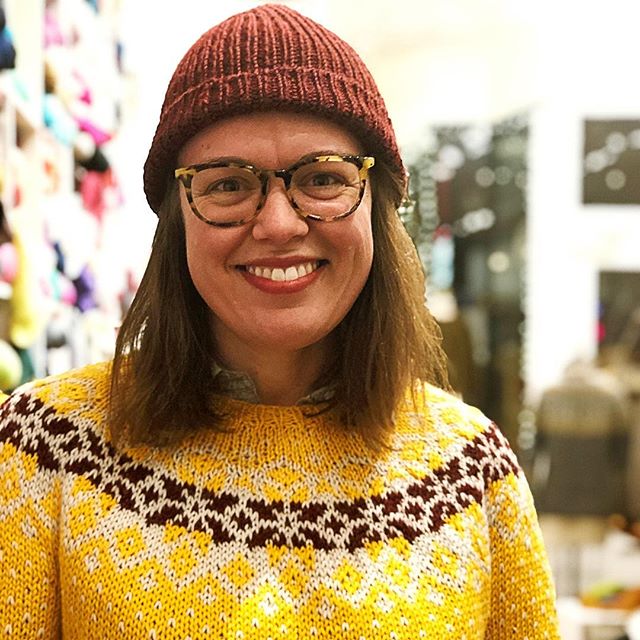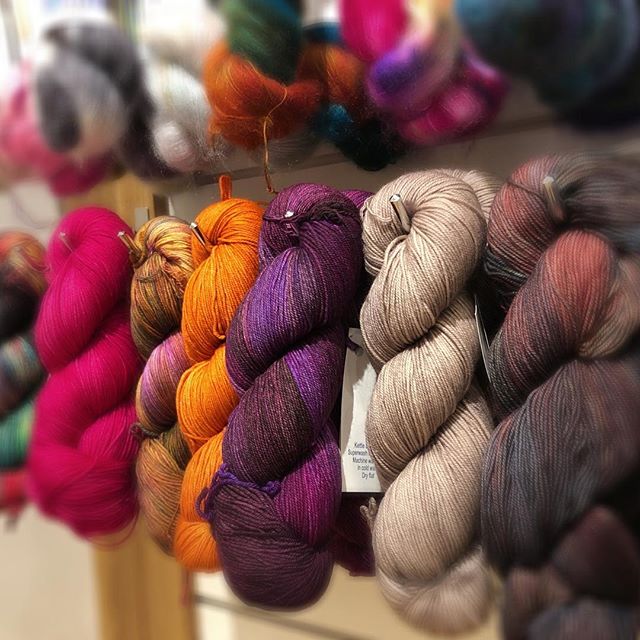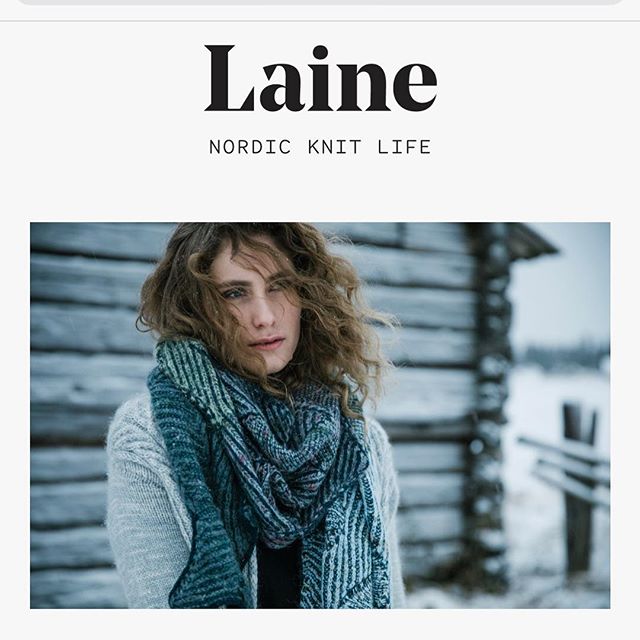 Upcoming Store Closures:
Midsummer Break: Thursday July 4 - Tues July 9, 2019
Monday August 5, 2019
Monday September 2, 2019
Monday September 30, 2019 - Close at 5pm
Wednesday October 9, 2019
Wednesday November 27, 2019 - Close at 5pm
Thursday November 28 - Friday November 29, 2019 - Closed
Wednesday December 25, 2019 - Closed
Wednesday January 1, 2020 - Closed
Knit 1 is a friendly boutique yarn shop with colorful natural fibers, great classes, and top-notch customer service.